Art Quality Designs for the Serious Machine Embroiderer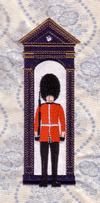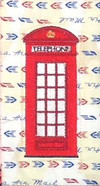 Spring Spellbinder London
You have already purchased this product. Click the button below to access it.
Access Downloads
Tea with the queen?
We're chuffed to bits to offer this eight-week stitching vacation! Ride a double decker and try to get the palace guard to crack a grin… each design, one through eight, takes a little over an hour; make a goal of completing one part each week and before you know it, you'll have a gorgeous finished project. Color charts provided with each week's design feature a cute poem to keep you motivated and up to speed… complete photo finishing instructions are included at the end to make the pillow shown. 5x7 hoop required.
Just need a taste of London? Designs are also available individually.
Ready to visit another city? Visit Spring Spellbinder Paris and Spring Spellbinder Cairo!