Art Quality Designs for the Serious Machine Embroiderer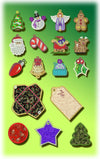 Christmas Charms with L'il Envelopes
You have already purchased this product. Click the button below to access it.
Access Downloads
Have a charming Christmas!
It's our merriest charm set yet!
Fast, unique and fun, Christmas Charms are freestanding embroidery designs with a little jump ring attached! Hook 'em all over--ornaments, gift tags, a garland, anywhere you need a little Christmas. Best of all, we've include a tiny appliqué envelope design to hold your charm and gift tags to mix 'n match as you please.
Christmas Charms are fully finished on front and back in the hoop, or use them as regular embroidery by simply omitting the jump ring. Christmas Charms are under 2"x2" and stitch up quickly! A full set of instructions, project ideas, and color charts are included.